Almost There…
You know that feeling you get, when you're really, really close to finishing a project, how you feel like you can't put it down until it's done?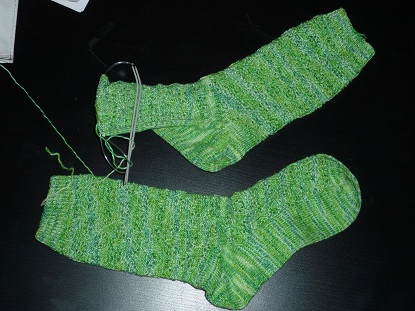 Yeah, I'm there.  I don't think I'll get much done tonight, but I expect to have a pair of socks before I fall asleep.
Also, the hourglass pattern on Knitty?  Totally just flies by.  I swear, I feel like I just started these socks yesterday.  Although, like all patterns I knit from, there are plenty of modifications I made to the original.  When I post about the finished pair, I'll do my best to call out the differences in case anyone wants to go down the crazy path I'm on instead of the well established original.
Posted: April 15th, 2010 under Uncategorized.
Tags: Socks