This Should Totally Be A Thing
I was honored to be one of the bridesmaids at my friend Erica's wedding a couple weekends ago.  It was the first time I'd ever bridesmaided (I'm totally making that a word), and no one in my family has had a wedding involving bridesmaids, so I got to learn about all sorts of nifty traditions that I had never known about before.
Like, for example, not only do the guests give the couple presents (everyone knew about that one, right?), but the bride gives the bridesmaids presents!
Erica being the lovely woman that she is, she decided to personalize the gifts for each of us.  So, along with a bunch of other stuff that I found absolutely charming, delightful, wonderful, or all three, I found: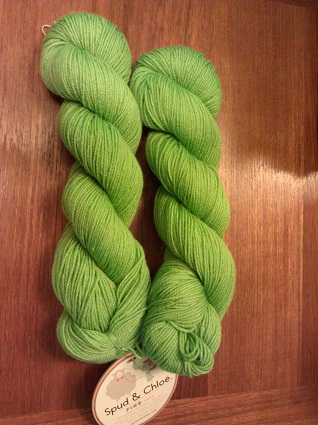 Sock yarn from Spud & Chloe, in the perfect shade of green.  This completely matches the wedding present my mother-in-law gave me when I got married, and has made me come to a realization.
All weddings should involve giving me yarn.  Or, at least, they should if I'm doing something more significant than attending them.  I guess it's not a requirement if you're just going to invite me to any wedding…
…although, quite frankly, I wouldn't mind if it was.
Posted: July 25th, 2011 under Uncategorized.
Tags: Wedding, Yarn