Things I Did Not Work On This Week
In the past week, I've done exactly zero knitting.
I know.  I'm shocked too.  I didn't know it was possible for me to live without knitting for so long.  I don't even have a good explanation for it, either – I wasn't injured, I wasn't trapped anywhere without yarn, and even though yesterday was Erica's wedding (which was lovely), I really wasn't even that busy this week either.  (If you're thinking of getting married, by the way, I really think you should talk to her about the magic she pulled together.  The whole month before her wedding, she turned down any and all offers to help with, "Oh, no, don't worry about it, it's totally under control."  And she wasn't lying at all.)
Frankly, I think I must be ill.
I didn't even touch the Wedding Blanket, even though I'm finally at the last (infinite) step of sewing on the border.
Nor did I knit anything on the Wedding Blanket II, despite the wedding this weekend being near perfect motivation.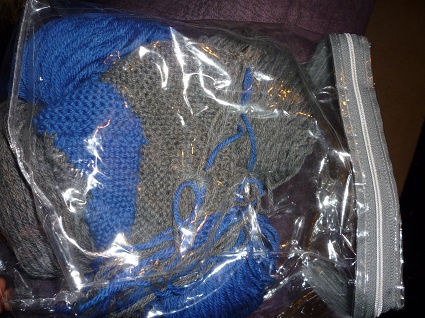 If I'd wanted variety, I could have worked a bit on the Blanket Thief's cARGHdigan, which has been sitting patiently in a box next to the couch for months while I was distracted on Wedding Blankets I and II.  (Note to self: next time, don't promise husband a sweater until after said sweater is done.  Also, don't encourage said husband to pick thin yarn for said sweater.)
And, really, there were plenty of times when I was out and about that I could have been knitting, and just…wasn't.  I've had this pair of socks in my purse for months as well, but I don't think I've knit on them in weeks, easily.
I must be ill.  There's no other possible explanation.
Posted: July 18th, 2011 under Uncategorized.
Tags: cARGHdigan, Socks, Wedding